Blessed by its enviable geographic location and a long history of culinary excellence, the Ljubljana food scene is exciting at all price points.
Drawing inspiration from nearby Italy, Austria, Hungary and Croatia, restaurants in Ljubljana take advantage of local products. We're talking about artisan meats like prosciutto and pork, incredible fruits and vegetables including some of the world's best wild mushrooms and uber-fresh seafood from the Adriatic.
In Ljubljana, seasoned chefs cook traditional Slovenian food with a modern twist and younger chefs are returning to Slovenia's capital city armed with fresh ideas acquired in some of the best kitchens in Europe and beyond. The result is a blending of traditional flavors and modern techniques at the best Ljubljana restaurants.
Why Visit Ljubljana
The fairytale city of Ljubljana has a lot to offer travelers. Upon our arrival, we immediately identified essential Ljubljana food experiences as well as cultural destinations like the Ljubljana Castle, the National Gallery, the Gallery of Modern Arts and the Museum of Illusions. We enjoyed exploring the city's architecture, designed by architect Jožef Plečnik, as well as its riverside cafe culture.
When you visit, we recommend that you head into the center of town, wander past the dragons and breathe the atmosphere around the compact but genius, neoclassicist triple bridge. There's nothing quite like it. Plečnik's architecture may not be as grandiose as Gaudi's in Barcelona but, in some ways, Plečnik's simplicity and functionality make his designs more special.
Ljubljana Food Guide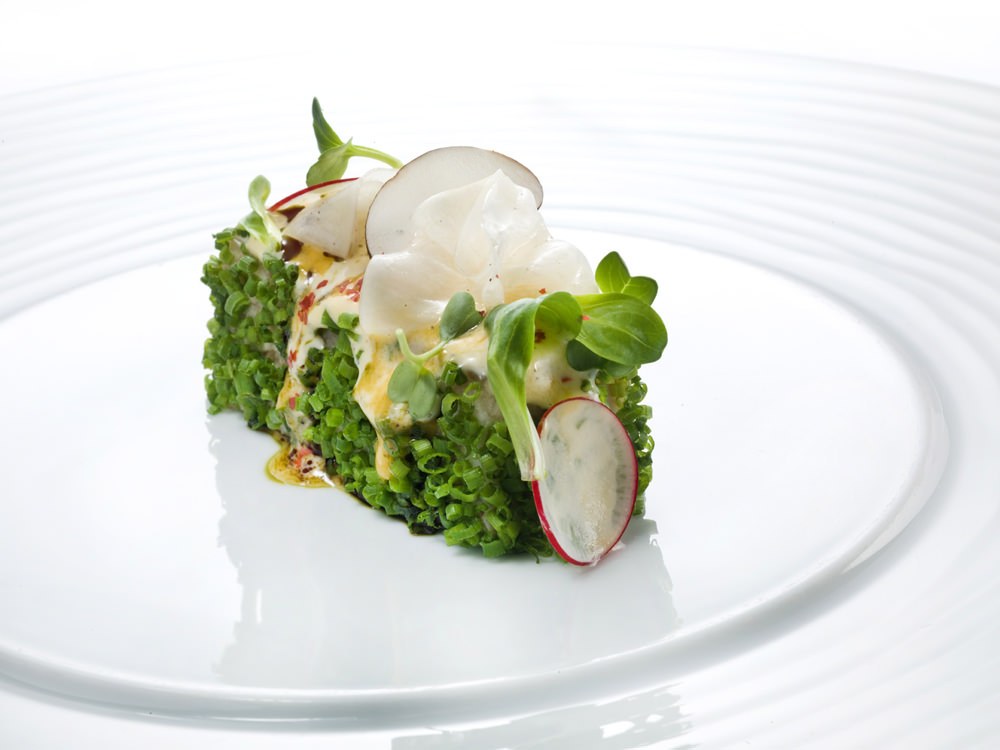 A modern take on Slovenian food, this cold corn soup at Monstera Bistro included exotic flavors like coconut milk and lemongrass. An ideal base for exploring Slovenia and its food, Ljubljana has a surprising number of restaurants for a city of its relatively small size. The challenge in this city isn't finding good spots to eat; rather, it's narrowing down the choices. Read on to find out our picks for the best places to eat in Ljubljana.
JB Restaurant
After meeting legendary Chef Janez Bratovž at Ljubljana's weekly Open Kitchen (see below), we had no qualms about accepting his generous invitation to stop by JB Restaurant to try a plate or two. Little did we know, by plate or two he meant an epic six-course meal that would serve as a touchstone for our Ljubljana dining experiences.
Recognized by San Pellegrino and helmed by Bratovž, the stately JB Restaurant occupies a 1920's Plečnik designed, Secessionist-style building. The vaulted ceiling, white tablecloth dining room is a bit formal for our tastes but Bratovž's food would taste good in any setting.
Each dish during our meal was a revelation as well as a snapshot of the cross-current of cultures that make the food in Slovenia so special. Bratovž's Adriatic tuna stuffed with seaweed and ginger cream and young fried green onions celebrated Slovenia's proximity to the sea while his ricotta and pistachio ravioli stuffed with meat sauce, licorice foam, foie gras and pear gelee defined the rooster-shaped nation with its convergence of earthy, peasant-style recipes and luxurious epicurean flavors.
Other highlights included Slovenian Mangalitsa Pork Crackling with egg yolk and two creams. With this dish, Bratovž brought dramatic culinary prowess directly to the table when he personally poured sizzling hot pork cracklings along with their molten fat over the dish to cook the egg.
Gostišče Grič
Košic exclusively cooks with products that he grows in the restaurant's gardens, forages in the forest or procures from local farmers. The only exception is the seafood which he sources from the Adriatic Sea. But where Košic really shines is with his culinary artistry. During our leisurely lunch, he transformed each plate into a work of art that almost looked too beautiful to eat and tasted even better.
As we sat in the restaurant's simple dining room with a rustic design and cozy decor, Košic's sister served us a cavalcade of dishes that knocked us off our feet. (Yes, Gostišče Grič is a family affair. ) Though we opted to share a tasting menu with seven plates, we now wish we had tried even more. Our imaginations soar when we think about the possibilities.
Modern Bistros
Luda Restaurant
Our dinner was a series of hits starting with a colorful salad featuring watermelon, ricotta cheese and walnuts to beef tartare with burrata, anchovies and brioche. Add vibrantly red risotto with beetroot and blackberries to the mix and the result is some of the tastiest and most beautiful food in Ljubljana for the price. Luda offers both three and five and course menus. Both are a tremendous value.
Monstera Bistro
Locals and tourists line up for a chance to eat the trendy bistro's Ljubljana Breakfast as well as for multi-course meals offered at both lunch and dinner. With meatless options for vegetarians, organic wine and craft beer, Monstera is a fine, chef-driven option for food in Ljubljana and Volčič is one of the culinary scene's finest standard bearers.
Traditional Slovenian Food in Ljubljana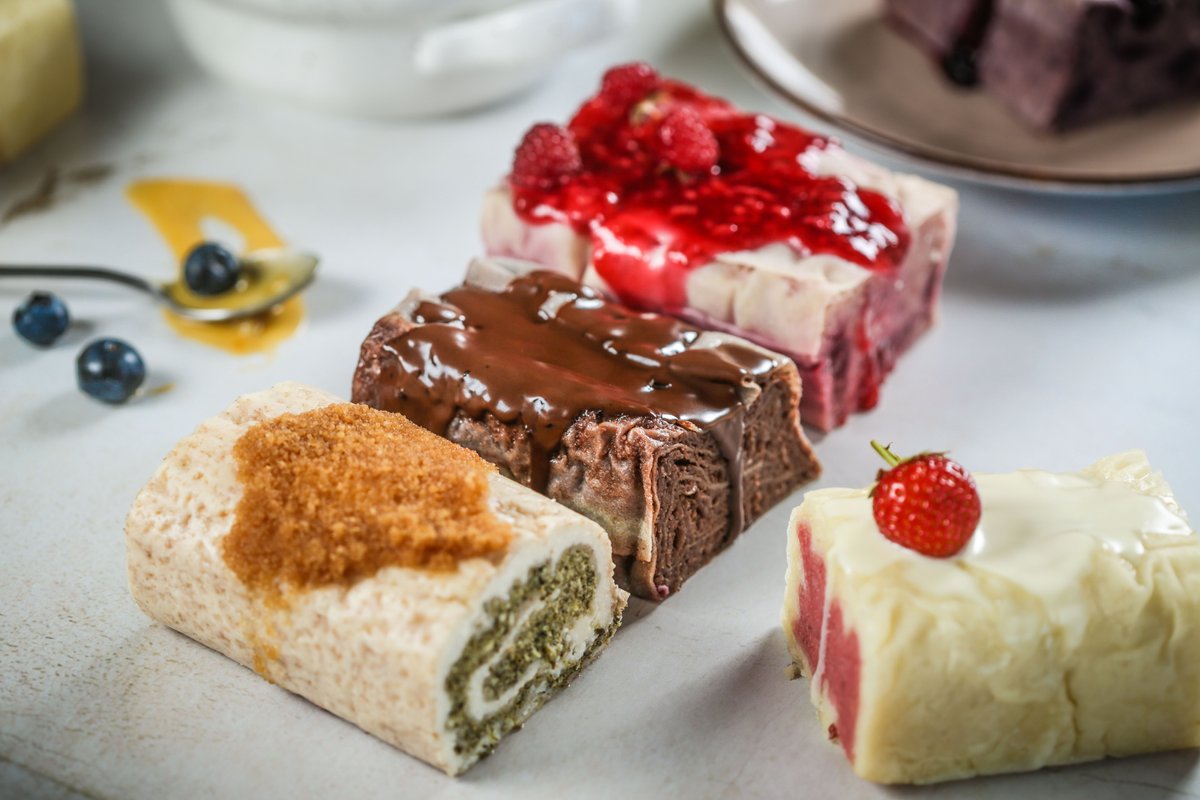 If these dishes don't ring a bell, visit Ljubljana for a culinary crash course at the following restaurants:
Moji Štruklji Slovenije
The creative team at Moji Štruklji Slovenije takes the simple štruklji to new mind-blowing levels with over 20 flavors on offer at any time. Beyond three dough options, Moji Štruklji Slovenije serves an array of freshly prepared savory, fruity, chocolate and gourmet štruklji variations in addition to traditional štruklji. After tasting several, we recommend the version with dark chocolate, orange cream, juicy oranges and melted dark chocolate.
Klobasarna
Slovenska Hiša – Figovec
Open since 2017 in a historic Ljubljana inn, the restaurant serves a variety of Slovenian food and wine favorites including options for vegetarians. We have now added this restaurant to the top of our dining list for when we return to Ljubljana.
Ljubljana Cheap Eats
Hood Burger
Pop's Place
However, finding Põhjala beer on the menu was a true treat. We originally discovered the excellent Estonian craft beer during our trip to Tallinn and were thrilled to drink Põhjala's brews one more time in Ljubljana.
Ek Bistro
Gelateria Romantika
Ljubljana Markets & Specialty Stores
Ljubljana has a surprisingly diverse food culture that dates back thousands of years and reflects the cuisine from former rulers like the Romans, Slavs and Hungarians. Some of the surprises hit you in the face like horse meat and milk vending machines, while others are more subtle like the city's focus on both food quality and conservation.
These are our favorite markets and specialty stores for experiencing Ljubljana's food culture in intimate settings surrounded by locals.